Refinishing old furniture can be an intimidating task, and it is especially daunting when pieces are coated with polyurethane. However, painting over polyurethane can be done and can result in awesome looking furniture! It is important to use oil based paint for any jobs such as this; just like how a canvas needs oil paint to stick, polyurethane-coated furniture requires oil-based paint. How to paint over polyurethane?
The process requires preparation — sand the furniture lightly, then clean and prime—followed by applying the paint of choice in light coats. Be sure to allow adequate drying time between each coat, but don't rush the process or else you may be left with an unsatisfying finish. Painting over polyurethane may take some time, but you'll have a piece of furniture as good as new!
Assessing the Condition of Your Polyurethane Surface
Get ready to give your furniture a makeover! Before you start painting, take time to look at the existing polyurethane coat and assess its condition. Whether it's a clear varnish or something more durable, there are specific steps that need to be taken for this project – so ensure success by following these guidelines every step of the way.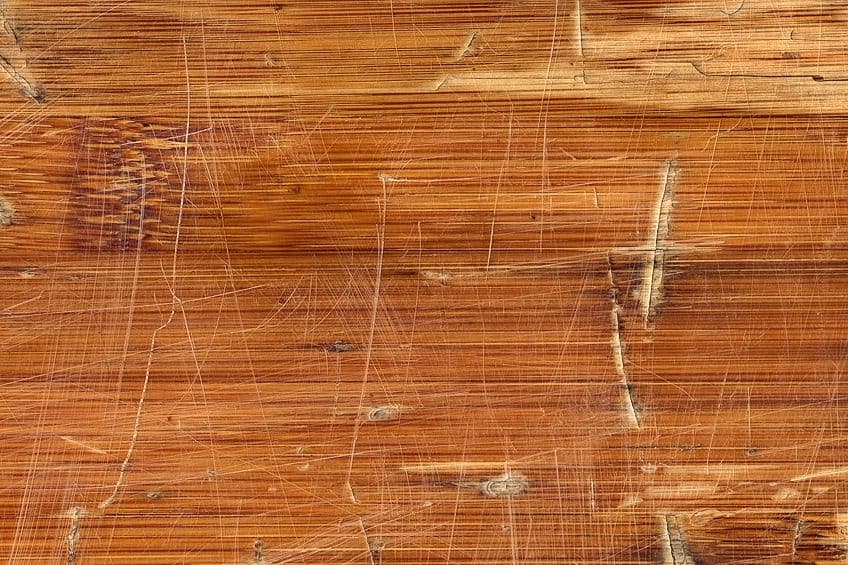 Minimal Wear and Tear
When the coat is only showing small signs of wear and tear, it is a relatively easy task to fix. All you have to do is clean the entire surface you plan to paint and use fine grade sandpaper to rough up the glossy finish of the polyurethane treated surfaces. After this, apply a thin coat of paint and let it dry before adding a second layer if needed. Doing so will help ensure that your new paint adheres strongly with the old surface.
General Neglect and a Few Scratches
When it comes to painting, sanding your surface is the first and most important step. The polyurethane finish on wood surfaces can be difficult to work with if you don't take the time to remove any imperfections or gouges. Using wood filler can help fill in these areas nicely, and then once dry it should be lightly sanded for a smooth finish before you begin painting. After carefully cleaning the surface of any dust and debris, apply a good quality primer as your first coat. Once this has been applied, you will have a nice smooth surface to paint that will last for years.
Serious Damage
It is a disheartening fact that serious damage to wood surfaces covered with polyurethane will require a paint stripper in order to restore the wood's surface. This may involve wearing rubber gloves and sanding by hand or machine, but the necessary steps must be taken to create an even coat of liquid plastic. If done correctly, brush strokes can be avoided and you may find that your wood looks better than ever before! Thankfully, the correct use of a paint stripper can make woodwork recovering an easier process than expected.
How to Paint Over Polyurethane
Painting over a wood surface that has been finished with polyurethane can be a daunting task, but it's totally doable as long as you take the time to get it right. First and foremost, proper preparation is key; you'll need to give the wood surface a thorough sanding in order to make sure the paint has something to hold onto. Put some elbow grease into it—it's worth it for the end result. Once your wood surface is smooth and all surface imperfections are sanded away, it's time to get started on the painting process. Make sure you choose quality materials when applying your final coat, and you'll enjoy beautiful results!
Before you rush off to the paint store, take a moment and check whether the polyurethane surface you're painting over is oil- or water-based. It's an important distinction that will ensure your project goes smoothly – no matter what type of polyurethane it may be, the actual process for applying new paint remains unchanged.
To give your paint job a sure grip, it's best to start with some sandpaper! A matte finish is more primed for adhesion than the glossy polyurethane coatings found on many surfaces. So don't skip this important step before you roll up those sleeves and apply the fresh new color.
What Types of Paint Can You Paint Over Polyurethane?
No matter the type of paint chosen, an impeccable finish and long-lasting results require prepping your surface – sanding down and cleaning. Failing to prepare can lead to bubbly, uneven coats that doesn't stand the test of time; but water-based or oil-based paints will both work wonderfully with proper preparation.

Tools and Supplies Needed
Cleaning cloths or rags
TSP solution for cleaning
Mineral spirits
Protective gear:

Respiratory mask
Safety gloves
Safety eye mask
Protective clothing

Liquid sandpaper (optional)
Sandpaper of various grits
Sanding machine (for larger surfaces)
Oil-based primer
Your choice of paint
Suitable paintbrushes
Preparing the Wood Surface
An essential part of getting the job done right is ensuring that your wooden surface looks pristine. To make sure you achieve a professional-looking result and have lasting durability, start by scrubbing away any dust, mildew or grime with an industry leading cleaning solution: Trisodium Phosphate (TSP).
Cleaning detergents may contain a concoction of hazardous chemicals, so invest in protective gear and ensure your workspace is properly ventilated! Make sure to keep yourself safe while achieving the cleanliness you desire.
To bring your wooden surface to a brilliant shine, mix one-fourth cup of TSP in a gallon of water. With the help from an abrasive sponge and light scrubbing motions on any dirt residue or marks, you can create stunning results – for tougher spots feel free to use more rigorous strokes with hard bristled brushes.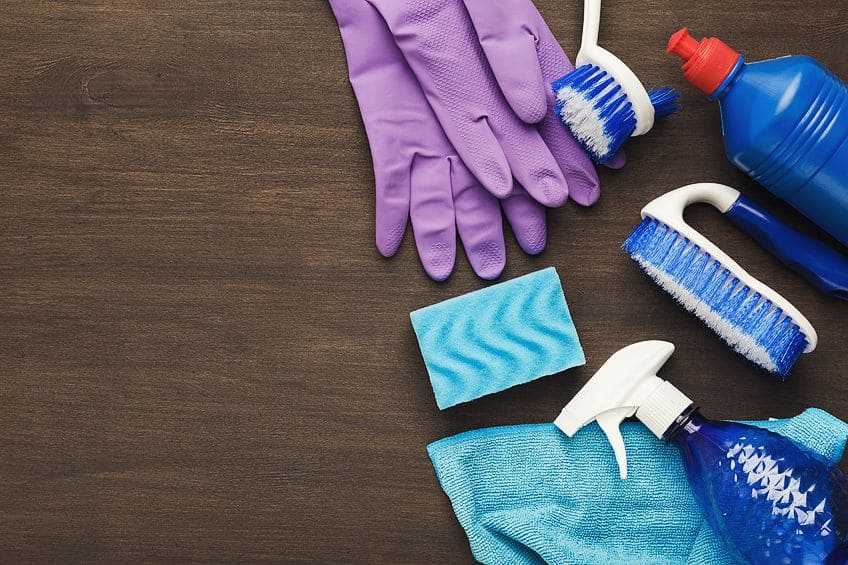 For those with sensitivities, chemical-laden TSP can present an unpleasant challenge. Luckily, there are several more health conscious alternatives available! Mix one tablespoon of dishwashing liquid in a gallon of water to create a gentler cleaning solution or consider using mineral spirits – just make sure your surfaces are completely hazard-free afterward.
Related>> Best Flat Paint for Ceiling | 8 Best Paint for Kitchen Ceilings
In order to bring life back into your worn wooden surface, you must wait patiently for it to dry. After 15-20 minutes have passed, use a palette knife and wood filler of your choice to make any necessary repairs – this will ensure the smoothest finish.
Sanding the Wood Surface
Don't let the smooth finish of your wood project be ruined by missing a crucial step. Sanding down gives you an even surface, which lays the foundation for successful painting and lasting quality – something that simply can't happen without it! So don't put yourself in doubt – if you want to get creative with polyurethane paint, sand first for guaranteed results.
Working with wood and polyurethane can be dangerous if you don't take the necessary precautions. Before starting your project, make sure to put on safety goggles, gloves and a respiratory mask — these will protect you from any nasty particles that might try to get in your eyes or lungs! If there is a yellowish tinge visible under the original coat of polyurethane, it's best to begin sanding with 120-220 grit paper; otherwise go for 60-80 grit as long as there isn't an extra layer of tint over top.
Achieving the ideal texture for a painted surface requires more than just sandpaper. If you come across any tricky nooks, like holes or curves, special tools such as Dremel and drum Sanders can help provide access to all areas – including those difficult-to-reach spots! Equipping your sander with a contour grip will also be necessary when fine tuning detailed surfaces.
For the best finish, move in circular motions when sanding by hand. Then, use your hoover to pick up all those pesky dust particles and fully clean out the corner before wiping down with a cloth dabbed in mineral spirits for a streak-free shine!
Have allergies? Can't handle the dust from sanding for a job? Fear not! Liquid sandpaper, or deglosser, is here to save the day. Forget about manual labor and all its pesky side effects – this revolutionary substance will let you tackle those larger projects or detailed pieces without any frustration.
Before using liquid sandpaper, keep safety top of mind. While the chemicals it contains can be intense, you don't need to risk ruining your wooden surface; test a small section first for best results.
Applying the Primer
Avoid rushing into painting without priming the surface first! Without primer, tannins from a polyurethane resin will come through and yellow your project over time. Additionally, paint won't stick to the unprotected surface so it's best to use a prime coat for an additional layer of protection – this way you can ensure that your masterpiece looks as good in 10 years' time as it does today.
By priming the surface you're about to paint, you can ensure a better finish and longer-lasting result. But it all starts with selecting the best primer for your specific project – depending on what type of wood is already present and its coating. Get ready to make sure your DIY job stands the test of time.
When it comes to priming, oil-based primer is the way to go. With its superior bonding properties and higher grade quality when compared with water-based formulas, you'll save time by needing fewer layers! Be sure to invest in a top of the line option for optimal performance – your surfaces will thank you later on.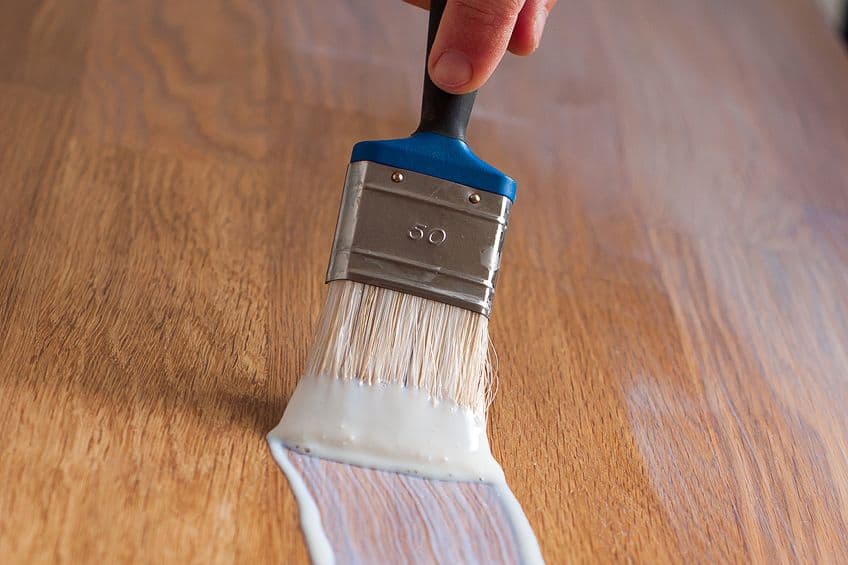 For more precise areas, a natural-bristle brush is the key when it comes to applying oil primers. For larger surfaces, why not roll out the results with a foam roller? Keep your strokes steady and maintain an up-down motion for best coverage.
Knowing the ins and outs of any job is essential! If you're tackling a project, make sure to take time to thoroughly read the labels – they'll tell you how much patience is needed before moving on. Dry times indicate when it's safe to apply additional coats or advance forward in your work.
Before taking out your paint brushes and paint roller, it is essential to first use sandpaper to scuff up the freshly primed wood surface. If this step is skipped, polyurethane coating will take on a discolored look which can completely ruin the final layer of paint you have had in mind for your project. This can be done easily with some manual labor, such as using sandpaper for the most intricate areas and then a paint stick for larger flat surfaces. With just a bit of sanding and some elbow grease, you'll have a perfect wood surface ready for painting before you know it!
Final Topcoat of Paint
Painting over polyurethane treated surfaces and varnish can be a daunting task, since you have to consider which paint and primer is best suited for the job. Before you can even delve into this question, however, it is imperative that you clean off the polyurethane or varnish coated surface with a clean cloth.
This will help to take away any of dirt and dust that may have accumulated there and give your paint a chance to truly bond with it. Once the surface is clear of all dirt, pick a bonding primer that is indicated for polyurethane treated surfaces or varnish. They come in both oil-based and water-based varieties, so make sure you check which works better with one or the other. Your paint will adhere easier if all these steps are taken into account:
Prepare the wooden surface by cleaning it of all dirt.
Give the surface a sanding down after it has dried from being cleaned.
Clean the surface of all dust particles from the sanding.
Apply the appropriate primer.
Read more: How To Apply Drylok. A Detailed Guide For Beginners 2023